You are here:
Home
/
Restaurant of the Hotel Meysset in Sarlat
Restaurant Meysset, on the heights of Sarlat
During all your stays, weekends or functions, you will savour healthy and creative cooking, respecting the genuineness of the flavours, the quality of the products and the rhythm of the seasons. The cooking is prepared in-house, the desserts are home made.
The restaurant is open evenings only, by reservation (from 19h30 to 21h00).
Closed: Sundays
Our undertakings for quality and the environment.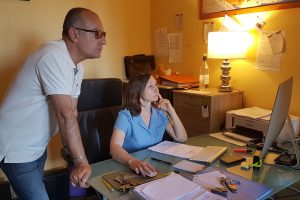 Gastronomy and well-being complement each other perfectly and compose part of the new offer from Hotel MEYSSET.
After more than thirty years spent around the world, your hosts, Janetta and Vincent, have brought back a taste for colour, spicy flavours, mixes and friendliness.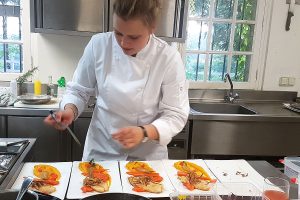 Enriched by our experience from the far-flung corners of the earth, where the value of sharing comes alive, we breathe into the Chef's inventive cooking, a warm atmosphere where everything is done so that your stay is a delight.
Whether you dine outside on the terrace or inside in the restaurant, you will discover our Chef's cuisine prepared on the spot and his home made desserts.
We also invite you to discover our gourmet cuisine with flavours from here and further afield.
A cuisine evolving with the seasons means a healthy cuisine, respecting the authenticity of taste and the quality of the raw ingredientss.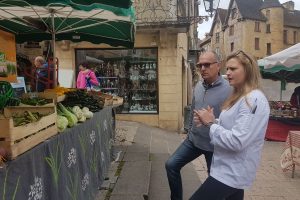 We undertake to make our purchases as selectively as possible and to favour local producers and so promote the fruits of their know-how.
We will do our utmost to buy regional products with a "label" or recognised quality criteria.
Our meat is of French origin when it is not regional produce
Duck breast and duck foie gras are PGI
Our fish comes directly from French fish markets
Our cheese is generally from raw milk and/or organic as are all our fruit and vegetable produce.
We hope that this procurement policy will give satisfaction and pleasure in tasting.
We are happy to answer questions concerning any allergens present in our dishes.
This post is also available in: French
Contact us
HÔTEL RESTAURANT
LE MEYSSET
62, route d'Argentouleau
F-24200 SARLAT – France
Tel. +33 (0)5 53 59 08 29
Email: contact@hotel-meysset.com
Follow Le Meysset on Facebook